»
»
Classic Boat Manufacturers
Classic Boat Manufacturers
Chris-Craft
One of the most widely recognized names in wooden motorboats, Chris-Craft got its start in 1922 in Algonac, Michigan, with Chris Smith and his sons Jay and Bernard at the helm. Chris led several boat building ventures prior to that, including a partnership with Gar Wood building race boats. Chris-Craft focused on standardized boat production, enabling them to build boats year-round and at a good profit - while still being affordable to the average guy. Chris-Craft's boat lines included the runabouts, utilities, cruisers, and sea skiffs. The founders sold the company in 1960, but Chris-Craft continued building wooden boats until 1972. The company is still around today, building boats made of fiberglass.
Stanley Boat Works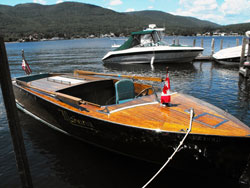 Sought after by Chris Smith and Gar Wood, Roy Stanley chose to stay in Cape Vincent, NY, on the shores of the St. Lawrence River and work in his own shop. He had an uncanny ability to produce fast boats, and developed some unique construction methods. According to Bob Speltz in his book, The Real Runabouts IV, "Stanley built a lot of skiffs, large double ended, powered guideboats, and at least a few special inboard speedboats or runabouts. He even built a number of powerboats for bootleggers who were active all along the St. Lawrence River and Great Lakes."
Stanley built his first boat in 1903; he passed away in 1960. Today, very few of Roy Stanley's boats remain—and even fewer outside of museums, and in restorable condition. As such, the right Stanley boat is highly collectible and worth an investment in a well-considered and high quality restoration.
Hutchinson Boat Works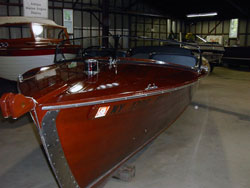 Hutchinsons were not built at a factory, but built at a yard by a crew of real boatbuilders who understood construction as well as how the boat would be used. The Hutchinson Boat Works in Alexandria Bay, NY (along the shores of the St. Lawrence River), dates back to 1908 where two brothers, Hubert and George Hutchinson, ran a small operation building, for the most part, custom boats for individual customers. By 1929, the brothers had passed away but boat building operations carried on under new leadership. Hutchinson built boats designed for fishing, commuting, and cruising – customized to buyers' specifications and built to handle the choppy water of the St. Lawrence River. Like many boatbuilding firms, Hutchinson did their part during both World Wars, building naval craft for the US government. The company still operates in the location they moved to in 1911; however, not as custom boat builders. Today, they are a full service marina and Sea Ray dealership. Only a limited number of wooden Hutchinsons were built in the company's heyday, and because of their seaworthiness, beauty, and quality construction, the few boats that remain today hold clear value to collectors, as well as boat owners looking for a capable yet beautiful and historic wooden boat.
Elco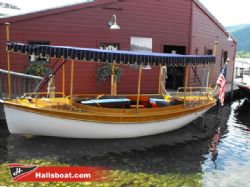 Perhaps known best for its introduction of the electric launch at the 1893 Chicago World's Fair, Elco produced a fine and varied array of boats in its heyday from the 1890s to 1949. According to the Elco website, "Elco designed and built – or had built – more than 6,000 pleasure boats ranging in size from an 18 foot gig or yacht tender to cruising power boats up to 127 feet in length. It also built craft for the government of the United States and other countries, including lifeboats for the U.S. Coast Guard, launches and tenders for various navies, anti-submarine motor launches in World War I, and PT boats in World War II – including PT 109 – captained by Lt. John F. Kennedy." Today, Elco produces fine electric launches that echo the lines of the original boats, in addition to custom boats that reflect the old designs.
Century Boat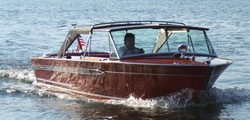 The Century Boat Company built some of pleasure boating's most talked about styles. The company was founded in Milwaukee in 1926. It began by building fishing boats, sailboats, canoes, and the champion racing outboards. Century soon moved to its home of the next 60 years, Manistee, Michigan. There they added mahogany runabout inboards, and even challenged the small inboard race classes with the 14-foot Thunderbolt. Struggling through the lean years of the depression, Century offered a wide variety of finely crafted, 15- to 20-foot runabouts, utilities, and outboards. During World War II, the company supplied over 3,500 small assault boats -- a dedication that earned the defense department's Army-Navy "E" flag. In contrast to the decline experienced by noted wood boat producers at the time such as Gar Wood and Hacker, Century enjoyed a period of unprecedented prosperity after the War. The company immediately began production of the popular Sea Maid model and introduced the highly versatile utility type Resorter shortly thereafter. In 1955 the company introduced both the Coronado and the Arabian. Cadillac and Chrysler V8 engines were also added to the line-up. The new models of the '50s, the Coronado, Arabian, Viking, and Palomino, boldly incorporated the stunning design trends of the automobile industry from that time. A well-restored Century from that era is highly collectible. Today, the Century Boat Company is based in Florida and produces fiberglass boats.
Shepherd Boats, Ltd.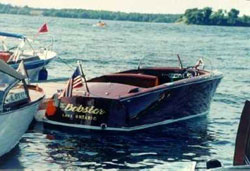 The Shepherd Boat company was a small semi-custom builder of wooden boats, somewhat understated in styling but of high quality. The company was established in Ontario, Canada after World War II, initially selling boats only in Canada. In 1949, Shepherd introduced its first boat for sale in the US – a 17-foot twin cockpit forward model runabout. Its American distributor, Jafco Marine Basin of Buffalo, NY marketed the Shepherds heavily in the US, and the boats gained in popularity. By 1953, Shepherd was producing five models, including a convertible express cruiser, an 18-foot V-drive runabout, an 18-foot direct drive utility, and the Seamaster Twenty – a "roomier and stauncher 20-foot utility that can ship a he-man cargo of luggage, camp gear, or provisions . . . [with the] grace and agility of a runabout" as exclaimed by its advertisement in January 1954 Motor Boating magazine. In his book The Real Runabouts I, author Bob Speltz notes, "Shepherd did not switch from wood [to fiberglass] as most other inboard builders did and it seemed by 1960, the wooden inboard runabout market had all but dried up." And with that, so did the Shepherd Boat company. Speltz goes on to say, "Today, Shepherd runabouts are gaining favor nationwide with collectors. It is hard to find a better constructed or nicer equipped speedboat than a Shepherd!"
Fay & Bowen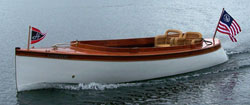 Considered by some to be the pinnacle of classic boat styling, Fay & Bowens have a distinctive, refined shape with classic brass fittings. Operating as the Fay & Bowen Engine Company out of Geneva, NY in 1904 (this, after first starting as manufacturers of bicycle parts in 1895), Walter Fay and Ernest Bowen built an extensive dealer network to sell their engines and boats. In fact, the largest Fay & Bowen dealership in the United States was run by Walter Harris at his boatyard where Hall's Boat sits today.
The company built only around 900 boats up until its demise, a few months before the stock market crash of 1929. Hull numbers can usually be found stamped on the engine compartment hatch, beneath the seats, and on the hull. Fay & Bowen built beautiful launches, both of open and long-deck, auto-boat configurations, and often with strongly radiused transoms as well as torpedo sterns. They also built a few round bottomed triple cockpit runabouts, a 40-foot cruiser, a 24-foot cruiser with sleeping quarters, and a stunningly beautiful 30-foot Raised Deck Runabout. This boat, designed by naval architect Morris Whitaker, had distinctive golden arrows running along the hull – gold leaf being a $200 option. Very few original Fay & Bowen engines are around today and even fewer remain in their original boats. Because of their beautiful lines and their impressive feel on the water, Fay & Bowen boats today are highly sought after.
Hackercraft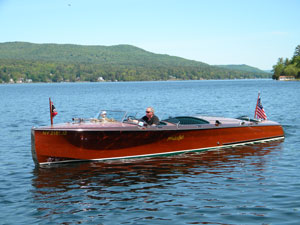 John Hacker was a design artist with a knack for what made a boat go fast. In fact, over the course of his life, John Hacker also designed boats built by other firms. Hacker bought his first boat works in 1909, and within the first three years had built nearly 30 hydroplanes, including some that could go over 50 mph. In 1913 Hacker joined with L.L. Trip and formed Hacker Boat Company, which later became the Albany Boat Co. After a short period Hacker sold the company and then started the Hacker Boat Company again, this time in Michigan. Throughout the 1920s, John Hacker and his company built luxury speedboats, including one in 1923, initially named "Miss Mary" and later renamed "El Lagarto." "El Lagarto" made racing history when she was repowered with a 300-horsepower Packard engine by George Ries and won the 1933, 1934 and 1935 Gold Cup Race. Today, "El Lagarto" is on permanent display at the Adirondack Museum in Blue Mountain Lake, NY.
The characteristic and highly innovative Hacker bottom had concave sections the entire length of the boat—a departure from other bottom designs of the day from Chris-Craft and Gar Wood. This bottom shape gives the Hackercrafts an inspiring, solid feel in the water, along with great speed. The construction of the original Hackers had many refinements, from using rivets to fasten the planking to the intermediate frames, as well has using forgiving red cedar for the longitudinal, outer planking below the waterline, rather than hard mahogany.
By the 1930s, Hackercraft was under new ownership but the commitment to building high quality boats was going full strength. The 30s saw a full lineup, including a 42-foot twin engine cruiser and the popular 24-foot and 25-foot triple cockpit runabouts. Those 1930s runabouts are characterized by their long decks, 3 piece windshields, and lots of chrome. By the 1960s, the company was defunct. The Hackercraft name was re-started on Lake George in the 1980s by Bill Morgan, and even today you can buy a modern, wood epoxy version of these classic boats.
Riva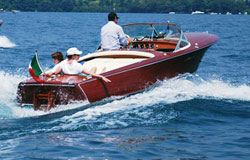 Pietro Riva began building boats in 1842 at Sarnico, a small town in northern Italy on the shores of Lake Iseo. By the 1930s the business was managed by Pietro's grandson, Serafino. But it was Serafino's son, Carlo Riva, who transformed the company, making it the worldwide legend it is today. As a young man, Carlo Riva had very different ideas about boat design. Carlo began designing by modifying his father's boats. At 19, Carlo designed his first twin engine boat, and before he was 30, he had designed and built more than 45 different models. Under Carlo's leadership (which was hard fought), the company produced boats of the absolute highest quality and consistency. A succession of owners have owned the company since Carlo Riva sold it in the early 1970s, and today the firm is owned by the Ferretti Group and produces boats made of fiberglass. According to the Riva Society GB, no one is sure how many of the 4,000 or so wooden boats built by Riva survive today. They are rare and highly collectible.
Lyman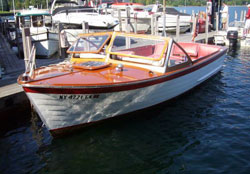 Bernard and Herman Lyman, brothers from Cleveland, Ohio, starting building boats in the late 1800s. Their boats were designed and built to handle the powerful chop of Lake Erie. Lyman Boats quickly established a regional reputation for quality lapstrake rowboats and sailboats. In the 1970s, the company turned to fiberglass production and by 1980, Lyman had stopped new boat production entirely. By 1988 the new owner of Lyman reached out to Tom Koroknay, a Lyman enthusiast and restorer who ultimately purchased the wood boat patterns, jigs, tools, hardware… even the plans and archives dating back to the original days of the Lyman brothers remained, which included drawings, half models, racing trophies, and hull records. Today Koroknay, known affectionately as Doc Lyman, operates Koroknay's Marine Woodworking/Lyman Boats in Lexington, Ohio.
Gar Wood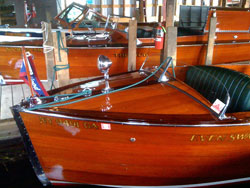 Garfield A. Wood "never intended to go into the boat building business. His goal was to personally set every speed record on water and be recognized as the world's speedboat king. However, as he set forth to achieve these goals, he was influenced by colleagues and friends and as a result built the world's finest line of production recreational sport boats," according to the Gar Wood Society. Gar Wood produced boats from 1921 to 1947, not including the four years of World War II. It is estimated that over 10,000 Gar Wood boats were built during that period. In fact, for many years Hall's Boat was a Gar Wood dealership. Today, Gar Wood Custom boats is a family company that builds wooden powerboats " in the tradition of Garfield Arthur Wood himself."