Wooden Boat Workshops, Hall's Boat Boatworks
Hall's Open Shop Forum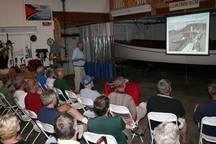 On Saturday, September 8, Hall's hosted Dick Sherwood who made an excellent presentation on his well-researched history of the 126 foot Steam Yacht, Cangarda.
Thirty-plus people were present to see and hear Cangarda's very interesting history as a luxury yacht out of Toronto, a training vessel during WWII, and a live-aboard on the port of Rochester, NY. She was eventually sold with the intent of being restored, but things went from bad to worse, and the boat eventually sank in Boston Harbor. Cangarda was raised, sold, restored and, is currently berthed in Maine. The story of Cangarda and her seven owners was fascinating.
Hall's Open Shop Forums will continue through the fall, winter and spring of 2013. Don't miss the next one. Use this website to request notifications for future Hall's events.
Watch this page for information about workshops, lectures, demonstrations, guest speakers, presentations, and more.